Don't Cross the Yellow Line:
This Romeo Shouldn't Necessarily Die
He Just Needs to Get Some
Film Review by Jeff Park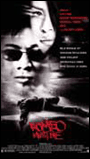 IN ANDREJ BARTKOWIAK'S Romeo Must Die, we are presented with an all too familiar trope in regard to Asian (or, interchangeably as the American industrial film complex practices it, Asian-American) males: An Asian male can "get over" via his martial arts skills.

BUT HE STILL DOESN'T KISS THE GIRL.

"Even" if she is Black.



Information
on the


FILM
REVIEWER

MR. JEFF PARK is a respective & involved member of MANAA

Mr. Jeff Park, in representing MANAA to the national media this past fall, has worked with the NAACP and National Hispanic Media Coalition (among others) regarding last year's boycott of the major broadcast networks.
HE IS STILL The butt of in-jokes and the (unaware) recipient of racial slurs, conflated by the fact that they emanate from another person of color.

IT SEEMS TO BE ENOUGH THAT HERE, in a major studio release (Warner Bros.) in conjunction with a major player in the game (Joel Silver) we have something benevolent: A "strong" Asian male image, "kicking ass" and "getting over". But what are the confinements of this success?

TOUTED AS A CONTEMPORARY RE-TELLING

of "Romeo and Juliet," Romeo Must Die casts R & B singer Aaliyah and Hong Kong star Jet Li as the star-crossed "lovers." And here is where Romeo Must Die takes a turn from other re-tellings, most notably West Side Story.

THE LOVERS

never so much as share a single kiss!

PRIOR TO THE RELEASE

of Romeo Must Die, much of the buzz among Asian Americans centered upon Romeo's Asian and Black leads. It begged the question: "Would they or wouldn't they?" It also compounds a reading of the film given the "kick ass" character given to Li, certainly a mainstream validation of masculinity, but one wonders how much of a leading man would any number of white male actors have been had they "not got the girl"?

THIS CONUNDRUM IS FURTHER COMPLICATED

when we consider that Li is not read as a romantic lead; in fact, in Romeo he is still subject to the role of the Other by dint of being on the receiving end of such aforementioned "nicknames" as "dim sum" or "delivery boy."

Other Films with
Asian Male &
White Female
Relationships

There has been relatively few daring attempts in dealing with interracial romantic relationships with Asian/Asian Pacific American males in films throughout history. Listed below are some prominent and rare examples.

In the early 1900's, isolated films such as Cecil B. DeMille's The Cheat brought to the screen the feelings of forbidden love between a White woman and an Asian man.

In the 1950's, Hiroshima Mon Amour and Crimson Kimono (in which, James Shigeta won the gorgeous White female - Victoria Shaw - from his White male co-star) featured an Asian Male and a White Female in starring romantic roles in major films!

In South Pacific, the song "You Have to be Carefully Taught" highlighted in the film one of the main reason why people fear interracial romantic situations.

In Bridge to the Sun, James Shigeta was married to the pretty Carroll Baker in a daring story during WWII!

In the 1990's, Disney's Johny Tsunami was one of the last example of romantic featured roles featuring an Asian/Asian American male and a White female.

Is the Asian/Asian Pacific American male and a non-Asian (White, Black & Hispanic) female romantic relationships taboo in American films?
AS AN ASIAN MAN,

I am left holding the bag: On the one hand, I applaud Warners and the production staff for most of all presenting us with an overwhelming Asian and Black cast in a major production. The predominantly Asian and Black audience I viewed Romeo with both cheered for Li; this definitely felt different and was different.

ON THE OTHER HAND,

those cheers for an Asian male image only came at his ability to kick some ass. Li's respect is reserved for him after the fact, as time after time he must prove his masculinity strictly through his physical prowess. Until then, he is "dim sum" or "delivery boy."

AND HE STILL DOESN'T GET THE GIRL.

IN THE FINAL SCENE,

where Aaliyah and Li are together at last, there is a long look exchanged between them. The tension in the theater was palpable, "would they, or wouldn't they?"….

PART OF THE PICTURE

lies in the casting of Li. Obviously accomplished and physically gifted, he is lauded and admired for these gifts. But that's where his story begins and ends. I would be willing to bet that within the Asian American community, if Li's character had been portrayed by Asian American actor and Romeo co-star Russell Wong, the assumptions around Li and Aaliyah's non-consummation would have been quite different. Wong is by all accounts handsome, (as he makes his entrance in the film, noticeable shrieks from females pierced the audience) but lacks the physical gifts of Li. As it is, Asian male sexual identity in major productions is relegated to "aberrant" portrayals, most noticeably M. Butterfly, or it is merely not addressed at all, assuming the mantle of Ellison's "Invisible Man."

WHILE ASIAN MALES

have not reached that "sexual apex" that, say, Asian females have (problematic as that is), Romeo strives to be well-intentioned. Asians should question whether or not this, the aping of, the reflecting back of past white male tropes as if they were something to be attained, is not without its own set of issues. Having said that, Romeo tries; in a positive step forward, Asians speak non-English and subtitles are utilized. Bravo. In its well-meaning, it at once brings the Asian male image center stage and hints at de-centering ignorant tropes. In the end, Romeo Must Die does take positive steps toward the ultimate goal of a full-fledged romantic Asian male image, but. . . . . . . . . . .




Any questions regarding the content, contact Asian American Artistry
site design by Asian American Artistry
Copyright © 1996-2003 - Asian American Artistry - All Rights Reserved.